[ROM] – DarkyROM 10.1 for Samsung Galaxy S International (GT-I9000)
Darky Rom 10.1 for Samsung Galaxy S is one of the first ROM that brings a stable version of Gingerbread to the international version of the Galaxy S. You have the option to use Gingerbread AOSP launcher or the enhanced version of TouchWiz. One of the strong customization features of Darky Rom is the configurator that is built-in into the ROM in which you can choose customizations such as installing Circle Battery Icon, installing different Kernels into your device, replacing Green icons in Settings with Grey colored Icons, and many others.
Installation uses Odin in order to put in the correct base ROM. Darky ROM implements many modifications and customizations on top of the Base ROM. After installing the base ROM, it is the usual processes of wiping Data (non-wipe option if you are coming from the previous version of the ROM), Cache and Dalvic Cache before installation. I used ClockworkMod Recovery 3.0.0.8 for the installation, and installation went smoothly without any problem.
Keep reading after the break for more info and a download link!
Darky ROM's configurator pre-loads your device with tweaking options that include installing custom Kernels such as Dark Voodoo Kernel or SpeedMod Kernel, installing different modems, installing Nexus S Boot Animation, Swype, and many others. Implementation is flawless, When I tried to install different kernels, modems, boot animation, and even circle battery icon, every single installation went smoothly without any problem. However, when I went back from circle battery icon to the standard battery icon, the icon doesn't cover the frame of the battery fully, so it always look like my battery is at about 10-20% at all times even though it is not.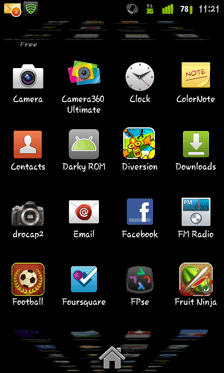 UI Experience can vary depending on the launcher that you choose. I still experience a little lag randomly when I use the touchWiz launcher, but not with the Gingerbread AOSP launcher. A little lag is only felt when I try to launch any app. It's not a deal breaker for me, but I just think that it can be better. Flipping pages in the home screens are smooth, and lagless, even with multiple widgets on the home screen. Apps Drawer is the standard Android's 3D, and it is blazing fast.
One of the first things that I noticed with Samsung's TouchWiz when I first used the device was that when I pulled the notification bar, there are power toggles embedded on top of the notification bar for you to easily silent the phone, toggle on / off WiFi, Bluetooth, and GPS. I'm glad that it has not been removed in Darky ROM as that has provided me with much more convenience compared to the stock Android.
Finally, there is the Lock Screen. The ROM includes the stock AOSP lockscreen which you slide from left to right to unlock your device. However, if you prefer the original Samsung's puzzle lock screen, there's an option in the Configurator to install it.
Battery life can vary. However I notice that compared to the previous ROM that I used (Doc & Stefunel's Froyo ROM), it is slightly worse. Slightly heavy usage on Samsung's stock ROM can last me from morning to the evening, while on Doc & Stefunel ROM with more or less same usage pattern, my battery can easily last for about one and a half day, and now it can last for the same amount of time only when it is on its best behavior.
My verdict on this ROM. Darky ROM provides an excellent Gingerbread ROM for my international Galaxy S, a certain degree of customization can be done through installations of multiple components from its configurator, and I feel that it was well implemented.
Darky ROM is a straight forward Gingerbread based ROM for your international Samsung Galaxy S with a certain degree of easy customizations on the internal parts of the ROM such as its Kernel, and modems. Darky's team have done an excellent job in being one of the first to create a Gingerbread based ROM that works flawlessly right out of the box. Try it on and see for yourself, this may provide the benefit of Android's openness to those of us that are less proficient in customizing our own ROM especially when trying to mix and match the ROM with a different Kernel or Modem.
Download link: here